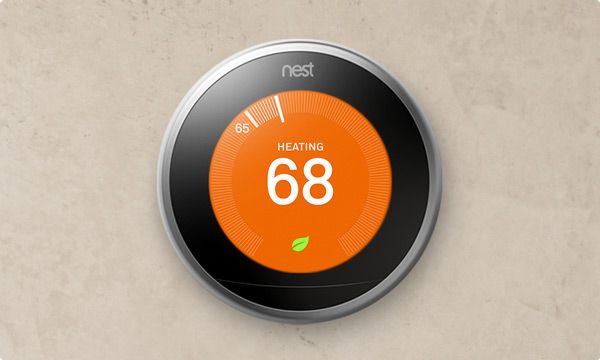 Cousin's Air is proud to carry the top of the line Nest Thermostat, a brilliant little device that can think for itself, and always has your comfort in mind. Cousin's Air, Inc. can install the first ENERGY STAR certified thermostat in your home.
Unlike any other thermostat on the market, the Nest Thermostat has perfected its user interface. Its simplistic design displays only the information you want, and none of what you don't. However, the Nest Thermostat isn't only beautiful on the outside, its revolutionary technology allows for it to program itself based on your needs. It detects patterns based off of when you adjust the temperature, and in only a week, it'll begin to program itself automatically.
The Nest Thermostat is not only focused on physical comfort when used, but also supplies you with an autonomous, thinking climate. Our Premier Air Service Professionals are trained to install the Nest Thermostat quickly and efficiently. Any South Florida resident knows that during the summer, your A/C may be on all day to keep out the heat and humidity. This can leave a rather annoying and unwanted dip in your wallet. However, with the Nest Thermostat, you'll get feedback on the most efficient and cost effective temperatures for your A/C to run on, displayed right on the screen, all without sacrificing that cold air you desperately need in the midst of July. The Nest Thermostat uses sensors to check if you've left and then sets itself to an Eco Temperature to save energy.
Here at Cousin's Air we're proud to have the Nest Thermostat available for installation in homes throughout Broward County and Palm Beach County, and hope that you too will see the incredible value and quality that a Nest Thermostat can provide you and your family with. Feel free to contact us today with any inquiries you may have on the Nest Thermostat and one of our NATE Certified Technicians will gladly install it at your home.