Air Conditioner Capacitor
The air conditioner capacitor starts the various air conditioner motors and keeps them going by building up a store of electricity that can be used to provide continuous power. In this role, it acts as a sort of temporary battery so that there is a constant supply of power to keep the system running smoothly.
Diagnosing A Faulty Air Conditioner Capacitor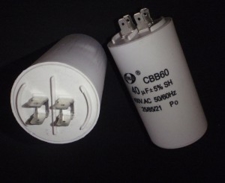 If you are having problems with the air conditioner motors, it might be caused by a faulty capacitor. When capacitors go bad, they lose strength and begin functioning at reduced power or else they stop working altogether.
If the capacitor is working at reduced strength, the system will have to consume more electricity to achieve the same amount of cooling. This will lead to inflated electric bills.
However, if the capacitor goes out completely, the fan motors will stop working, and this will prevent the air conditioner from cooling. It is usually easy to tell if the capacitor is faulty simply by looking at it.
A faulty capacitor will often bulge outward or become swollen. It might even blow apart and leak oil. In this case, it is necessary to replace it. This is more likely to happen during hotter months, when electrical components run at higher temperatures.
If your AC fan is not turning while the system is on and humming, this is a good indication of a blown capacitor. If there might be a capacitor problem, it is important to let a professional diagnose it, as the electrical charge can be dangerous.
The Role Of The Air Conditioner Capacitor
A capacitor is similar to a battery in function, though they both work in very different ways. The capacitor's job is to absorb and store electrical energy that can be used to start up the fan motors and to keep them running. Capacitors help maintain a constant charge to the motors so the air conditioner can run for an extended period of time reliably and efficiently. Cousin's Air, Inc. can diagnose and repair problems with your air conditioner system.
We also offer capacitors that are designed to suppress noise from your AC unit. Call Us Today!