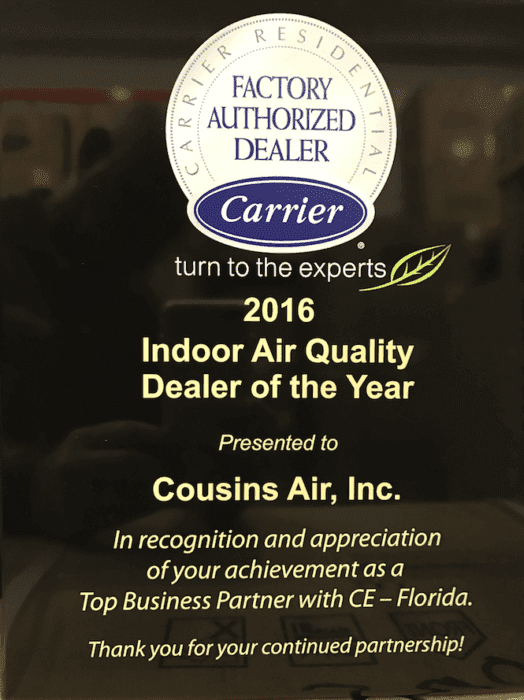 Carrier presented the 2016 Indoor Air Quality Dealer of the Year Award to Cousin's Air, Inc. This award recognizes and appreciates all the achievements of Cousin's Air as a Top Business Partner with CE – Florida.
So what does Carrier look for in Air Conditioning Dealers to award them with the prestigious Indoor Air Quality Dealer of the Year Award?
Not only does Carrier look at growth in sales and business, they also expect dealers to:
Participate in factory training on technical aspects of equipment installation, maintenance and repair. They want all AC dealers to know the latest in the HVAC (air conditioning) industry.
Be able to identify and recommend solutions to clients that will ultimately provide comfort.
Promote Carrier products that are energy-efficient and reliable.
Employ NATE certified technicians who've passed a series of exams.
Maintain all required and mandatory licenses with insurance and liability coverage.
Provide excellent customer service and respond to customer feedback in a timely manner.
Cousin's Air, Inc. exceeds all these expectations. Cousin's Air also acts as a resource in the South Florida community. They strive to inform residents of South Florida about the importance and value of indoor air quality. Quite often, homeowners and businesses overlook the importance of indoor air quality. Life can get in the way, but it is very important and necessary to maintain and have an AC professional check your AC system.
The benefits of having clean indoor air by maintaining an efficient AC unit:
Fresh clean air for family and employees
Reduces the chances of allergic reactions or respiratory issues, especially for individuals who suffer from this often
Lowers your power bill
Better for the environment
Cousin's Air, Inc. offers a wide range of services to help you with all of your air conditioning necessities from custom air filters to duct cleaning. Call Cousin's Air at (954) 228-5965 Today! You should also visit our website! We look forward to working together to ensure your AC system is working at its highest potential.