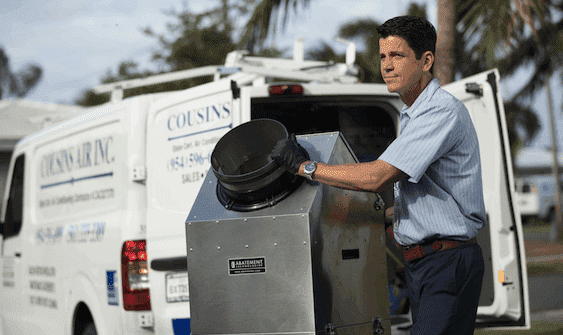 It's time to welcome the spring season with a fresh and clean approach. The weather is getting warmer and the house is getting messier. It's important to refresh your home and create an inviting environment for your friends and family to come inside and enjoy the cool air. Similar to your windows, outdoor landscape and kitchen, your air duct cleaning is also imperative. We want to make sure that you add a total air conditioning system duct cleaning to your 2017 Spring Cleaning Checklist.
You may wonder why this is so crucial or what exactly entails a total AC system duct cleaning and how Cousin's Air, Inc. can help. When you're cleaning on a regular basis and throughout your Spring Cleaning process, you most likely dust the air vents with dusters and pipe cleaners. Yet this is a superficial approach and doesn't prevent your family and guests from the built-up dust, pollen and weed allergies. Your vents and filters were specifically created to make sure these tiny particles don't get through but once they do, the air quality in your home decreases.
If you or a loved one suffers from allergies or asthma throughout the year, you'll notice the instant relief when breathing due to the improved indoor air quality. Our Cousin's Air, Inc. NATE Certified technicians remove the dirt, dust, pollen and other undesirables with a high suction vacuum system. Once our technicians force the high-pressure air, which cleans your duct, they add a layer of antibacterial product that seals and protects the work. You can rest assure that the fans, grilles and air handler will be cleaned along with the microbial system.
Not only will you notice your family breathing in safer air, but you'll notice a lower utility bill as well! Before this service is performed on your unit, you may have noticed that your utility bill may be escalating faster than ever. Cousin's Air, Inc. professional cleaning will help your system run exactly as it should, making you more comfortable and keeping your bill at an affordable rate. Feel free to contact Cousin's Air to schedule your spring duct cleaning service!